The Work Queue is a useful tool for saving time on the production floor.  Using the process work queue means that the Process Details are already populating the work order and the report associated with it when the operator goes to run the process.  This means that when your operators start a process, they only select from an already populated list of work orders which saves on errors in your reports and keeps your line running processes rather than pausing to enter data. The operators can use the work queue to enter the Process details of the next process while the current process is running streamlining your production and potentially increasing revenue.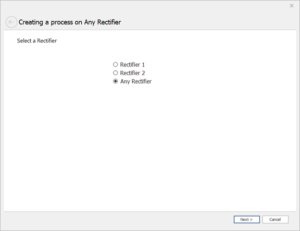 To access the Work Queue, select the 'Rectifiers' tab then click on the 'Work Queue' icon.  The operator/user must have access to this tier of security to utilize this feature.  Once signed in click on the double green arrow icon and select 'Start a Process'.  Select the rectifier for the process or select the 'any rectifier' option.
Click the 'Next' button to continue.
Select the program the process will run, then click next.
Populate the Work Order and Process Details, note that you can still run multiple work orders in a single process using the Work Queue, These work orders will be listed on a single line in the work queue.  Once all work orders associated with a process are entered, click the 'Next' button.  You will be asked to verify the program to run, after verification the process will be added to the work queue.
To access the Work Queue, simply click on the 'Work Queue' icon, sign in, and select the process to run, verify security tier access, and the process will start.  If the 'Any Rectifier" was selected when creating the process in the Work Queue, then the operator must enter the rectifier that the process will run on at thee time he starts the run.  Once the process is done running it will no longer show up in the Work Queue.